Davis Vision, Mission, and Values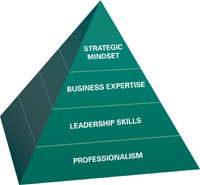 Vision
To be recognized as an institution that cultivates global leaders who positively influence and serve their communities, business and nation.
Mission
To deliver high quality educational programs that develop leaders who create and promote ideas with a strategic mindset; demonstrate their business expertise; lead organizations toward economic success; and exhibit the highest standards of professionalism and ethics.
Core Mission Values
a. We are committed to supporting continuous personal, professional and leadership development of our students, alumni, and community members.
b. We support progressive and meaningful research, creative activity, and knowledge dissemination. We celebrate excellence in teaching.
c. We strive to become thought-leaders in global management education based on our active pursuit of global partners in business and education.
d. We recognize the value of ethnic and cultural diversity and welcome and respect people of differing backgrounds, beliefs, and points of view.
e. We value and foster mentoring relationships and shared responsibility for learning.
f. We embrace and explore technology as a means of enhancing and delivering management instruction in order to increase flexibility for our students and expand our academic outreach.
g. We actively seek partnership opportunities with the corporate community in order to enrich the educational experience of our business students and promote the practical relevance of our college.
​​