Film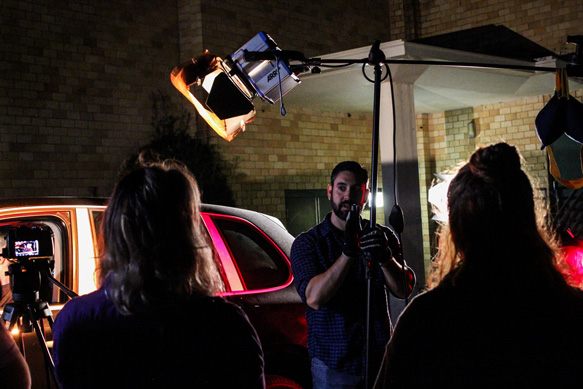 The Bachelor of Arts in Film offers students a comprehensive experience in the creation of independent motion pictures through a rigorous, hands-on production centered curriculum. The JU Film program strives to create master visual storytellers who can connect with their audiences intellectually and emotionally.
The major in film leading to the BA degree is designed for students who intend to pursue professional careers or graduate study in the visual arts after college. JU's Film program empowers the creative innovators of tomorrow by training them in all aspects of the arts and crafts of the moving image, from the aesthetic to the technological. We affirm the importance of storytelling as the form in which human beings give weight and meaning to the most important passage of their lives.
Download Film program fact sheet
​
Rolling Shot
All BA Film majors must complete the following:
MAJOR REQUIREMENTS
Code

Course
Credit
​ART 212
Foundations Seminar​
2​
​ART 254
Digital Art​
3​
FVA 101
Introduction to Film
3
FVA 170
History of Film
3
FVA 201
Elements of Screenwriting
3
FVA 301 ​
Advanced Screenwriting ​
3
FVA 363
Time-Based Art​
3​
​FVA 273
Production I
3​
​FVA 373
Production II
3​
​FVA 472
​Directing
3​
​FVA 473
Advanced Production
3​
FVA 474
Cinematography
3
FVA 480WI
Senior Thesis: Fall

1

3
FVA 481SI
Senior Thesis: Spring

2

3
​THEA 113
Acting I​

3​

Total:
44

1. Satisfies Core Curriculum Writing Intensive (WI) course requirement for film majors.
2. Satisfies Core Curriculum Speech Intensive (SI) course requirement for film majors.