The Phillips Fine Arts Building is an acoustically designed structure that houses a gallery/recital hall, a pipe organ, an recording studio, digital piano/computer laboratory, practice rooms, studios, classrooms, rehearsal rooms, the Alexander Brest Museum and Gallery, musical instruments, and equipment for the Division of Music.
Terry Concert Hall, seating 400 persons, is the venue for ensemble concerts and solo recitals. It provides the finest acoustical setting for small concerts in the area.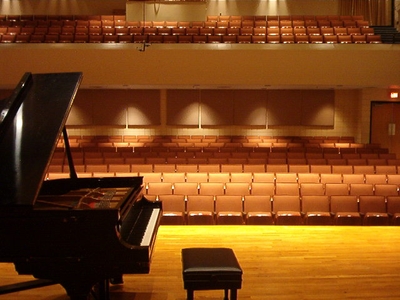 Terry Concert Hall interior

Swisher Theater, seating 400 person, is the venue for operas, musicals, and other staged productions. The venue boasts a computerized rigging system, sound system and new costume shop, scene shop, design studio, makeup room, greenroom, and classroom.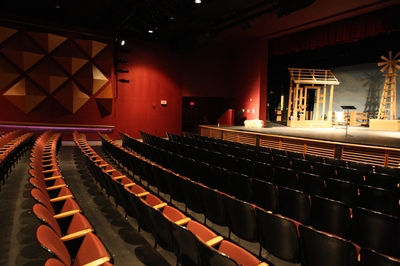 Swisher Theatre interior

Swisher Library houses an excellent music collection of 20,000 musical scores that covers a wide range of styles from different time periods. The collection also includes more than 3,000 classical compact discs.
Recording producers and engineers in the Commercial Music and Music Business programs use the "Hit Pit" recording studio, most often for releases on Dolphinium Records. Equipment highlights include a Neve mixer, 12 channels of Neve Microphone pre-amps, Otari ½" analog mixdown, Pro Tools, JBL Room Mode Correction Monitors, and processing using UAD Quad-core card using plugins including Manley, Neve, SSL, Studer, EMT. The microphone closet features mics by Neumann, Sennheiser, SE Electronics and Shure.