Jamie Griffiths
​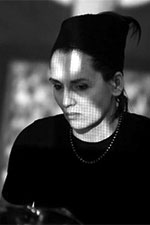 Jamie Griffiths is an interdisciplinary conceptual artist, film director and performer working with cameras, sound, live performance and gallery installations. Jamie designs experimental performance tools and new media environments, as she digs into humanity's failings and triumphs, employing processes of autobiographical transparency and cultural confrontations.
In the 1990's innovations in experimental photographic darkroom techniques led jamie into film-making and performance collaborations with dance and music, using motion capture/trigger techniques & wireless hand controllers. Her latest works have included 3D video-projection with mathematician & world-renowned knot specialist, Rob Scharein & the birthing of her 'pseudo-robot' called I.V.Y.
jamie's photographic & performance works have exhibited internationally since 1992. Photographic portraits in outsider cultures of the 1990's in San Francisco & Vancouver morphed into experiments with photo-therapy technique, working over extended periods of time on projects with people living in struggle. Jamie's photographs have been published in 17 countries and exhibited in New York, San Francisco, Seattle, Paris, London, Vancouver and Toronto.
​