Student Achievement
Mission
Jacksonville University empowers students for life-long growth as global citizens through a transformative, innovative educational experience, built on excellence in community-centered service.
Student Achievement Measures
The Southern Association of Colleges and Schools Commission on Colleges (SACSCOC) Principles of Accreditation Standard 8.1 (Student Achievement) requires institutions to identify, evaluate, and publish goals and outcomes for student achievement appropriate to the institution's mission, the nature of the students it serves, and the kinds of programs offered. It also indicates that the institution should use multiple measures to document student success. Requirements for publication are further specified in the SACSCOC Policy on Institutional Obligations for Public Disclosure. Standard 8.1 is not intended to be fully comprehensive since other standards in the Principles of Accreditation: Foundations for Quality Enhancement address institutional practices, educational quality, and program effectiveness. Rather, current practice in regional higher education has focused measures of student achievement on "retention, graduation, licensure examinations, and job placement rates among other measures of student success."
Jacksonville University's EASE Grant Performance Measures on Access Rate, Affordability Rate, Graduation Rate, Retention Rate and Postgraduate Employment Rate are specifically listed on the ICUF Dashboard.
In order to ensure JU is accomplishing its mission, faculty, staff, and administrators regularly examine relevant student success measures.
Learning: Student success begins by examining retention of first-year students and persistence rates for all students at the institution (both graduate and undergraduate), understanding that these measures of acclimation, satisfaction, and progress are necessary for students to successfully complete.
Achieving: The next measures look at six-year graduation rates of our first-year cohorts to determine the rate at which students are successfully completing degree requirements and achieving academic goals. Further, for programs where licensure passage is a requisite for career placement, those rates are included. It is important to note that in 2017, Jacksonville University notified SACSCOC that the IPEDS six-year graduation rate is the official metric to be used in this required field.
Leading: Upon exiting the University, faculty and staff hope for all students to engage in meaningful work in the career area for which the campus has helped them prepare—either immediately upon completion or after further advanced study. For this reason, the University tracks career outcomes data for students and include those rates as measures of student achievement.
Serving: Participation in high-impact practices can be life changing (Kuh, 2008). Of particular importance to Jacksonville University is student involvement in service learning, which greatly benefits our community. To track success in these areas, student responses related to HIP participation from the National Survey of Student Engagement conducted every three years on campus are examined.


Performance Levels
The target performance level is the minimal threshold above which each measure should be maintained. It is typically set by identifying JU's lowest performance on a particular measure over the past three years.
The goal performance level is the expected threshold each measure should meet on an annual basis. It is typically set by identifying the average performance level of JU's peer institutions over the past three years. (Information on JU's peer and aspirant institutions can be found here.)
The aspirational performance level is the threshold JU is striving for each measure to meet on an annual basis within the next five years. It is typically set by identifying the average of JU's aspirant institutions over the past three years. (Information on JU's peer and aspirant institutions can be found here.)
The stretch performance level is the threshold JU is striving for each measure to meet on an annual basis within the next decade. It is typically set by identifying the average of the institutions that constitute the Top 10 Regional Universities in the South according to U.S. News & World Report.
The actual performance level is the current level of performance in the defined measure.
For some measures, there is not meaningful benchmarking data; instead, we focus on longitudinal performance of our own institution in setting performance level goals. These decisions will be explained in relevant sections.
We maintain the same performance level expectations for all students regardless of ethnicity, gender, or socioeconomic status. We disaggregate many of our student success measures so we can track performance across different demographic groups and identify areas that merit additional attention.
Measure One: Retention of the First-Year Cohort and Persistence of All Students
The retention rate of the first-year cohort is an indicator of how well new students acclimate to Jacksonville University's academic and social life.
Performance-Level Goals for First-Year Cohort Retention
Target: 72%
Goal: 74%
Aspirational: 82%
Stretch: 84%
The data below shows a more than seven-point increase in retention over the past decade. For the 2019 and 2020 cohorts, we adjusted our target downward due to difficulties and uncertainties brough about by COVID-19. The 2019 number was also negatively impacted by the closure of our football program. The Student Success Task Force has been charged specifically with examining ways to come closer to our aspirational and stretch goals in the coming years.
As stated earlier, we set the same goals for all ethnicities and financial aid statuses. The table below shows first-year retention broken down by ethnicity, Pell recipients, and subsidized loan recipients. All data points that fail to meet our target are examined by the Student Success Task Force. Given the low number of students in some categories, the Task Force tends to focus on trends over a number of years and the impact of intentional efforts by the campus community on outcomes.
Performance-Level Goals for Fall-to-Fall Persistence for All Undergraduate and Graduate Students
Target: 73%
Goal: 75%
Aspirational: 77%
Stretch: 79%
The data below will demonstrate relative consistency in overall institutional persistence for the past five years from fall-to-fall. Each year we have surpassed our goal number and comfortably met our target.
Again, as described above, the below data shows persistence data broken down by ethnicity and financial aid status. Focused efforts since 2016 had shown an increase in equity in persistence until the 2019 and 2020 years, where an increasing gap has again been noted. This is under review by the Student Success Task Force.


Measure Two: Six-Year Graduation Rate and Licensure Passage
JU uses the IPEDS six-year graduation rate to measure student completion and achievement. Successfully completing degree requirements is an important step in meeting academic and career goals.
Performance Level Goals for Six-Year Graduation Rate
Target: 52%
Goal: 56%
Aspirational: 66%
Stretch: 70%
Focused efforts have been placed on increasing graduation rates at JU in recent years. The current data shows a ten-point increase between the 2011 and 2016 freshman cohorts—representing the initial success of these efforts. The increase in retention and current pace data suggests these trends will continue to increase toward our goal, aspirational, and stretch numbers. Further, we hope to increase the percentage of students who retain to begin their second year that ultimately graduate within six years.
The below table shows six-year graduation rates broken down by gender, ethnicity, and financial aid status. While our main efforts remain increasing the overall graduation rate, we are focusing more effort and energy on increasing completion for students who currently track below average. We are, however, waiting for more trend data to determine where systemic problems may be present.
Performance-Level Goals for Licensure Passage Rates
In the Brooks Rehabilitation College of Health Sciences, numerous programs require licensure for students to practice in their chosen fields. As a result, we track and report that data as measures of student success.
NCLEX
JU nursing students take the National Council Licensure Examination (NCLEX) each year. JU's goal is to always out-perform both the national rate and the state of Florida rate. We have done so every year since 2010, except in 2015 when we did not meet the national average.
American Academy of Nurse Practitioners Certification Board and American Nurses Credentialing Center Certification
MSN and Post-Graduate Certificate students complete one of two certification exams. Our goal on each is to have a higher pass rate than the national average whether students completed the master's or post-graduate certification track.
American Board of Orthodontics Written Examination
The JU 100% Club award recognizes each orthodontic program class's hard work, perseverance, and ability to work together, resulting in a 100% pass rate on the written phase of the American Board of Orthodontics (ABO) certification examination. We have had every student pass since 2016 until 2020 when a single student failed, causing us to miss the national average.
Speech-Language Pathology Praxis
The JU speech-language pathology program requires students to take the ETS Praxis subject exam. The goal is that all students pass, which we have accomplished since 2016 with the exception of a single student in 2020.
NCMHCE
Clinical Mental Health Counseling students are required to pass the National Clinical Mental Health Counselor Examination prior to becoming certified. The JU goal is to outperform the national average pass rate each year, which we have done for each year of our program.
Measure Three: Career Outcomes Data
Jacksonville University wants all students to engage in meaningful work in the career area for which we have helped them prepare—either immediately upon completion or after further advanced study. JU administers a first destination survey to graduating students through Handshake. This is calculated by taking the number of graduates who are employed, continuing their education, or serving in a significant volunteer role, and dividing by the number of graduates for whom an outcome is known.
Performance-Level Goals for Career Outcomes
Target: 86%
Goal: 89%
Aspirational: 92%
Stretch: 95%
We have met our target each of the last six years, including our goal in multiple years. We continue to work to ensure students leave well-positioned for immediate success in their chosen careers.
Further, we also track data from the Florida Education & Training Placement Information Program on employment and salary figures for trackable graduates. Our goal for both undergraduate and graduate completers is to remain above the average in employment and salary of our Independent Colleges and Universities (ICUF) peers. We have met this goal for all areas for 2020-2021.
Measure Four: High-Impact Practices

From the belief that learning can be a deeper experience than just what students experience in the classroom, Jacksonville University encourages student participation in High-Impact Practices (HIPs). These experiences (such as learning communities, undergraduate research, and study abroad) demand considerable time and effort, facilitate learning outside of the classroom, require meaningful interactions with faculty and students, encourage collaboration with diverse groups, and provide frequent and substantive feedback.
Our goal for High-Impact Practices is to score equal to other Florida private colleges and universities and ahead of institutions in our same Carnegie Classification Category and those that completed NSSE in the previous two years. As stated above, we take particular interest in service learning at JU.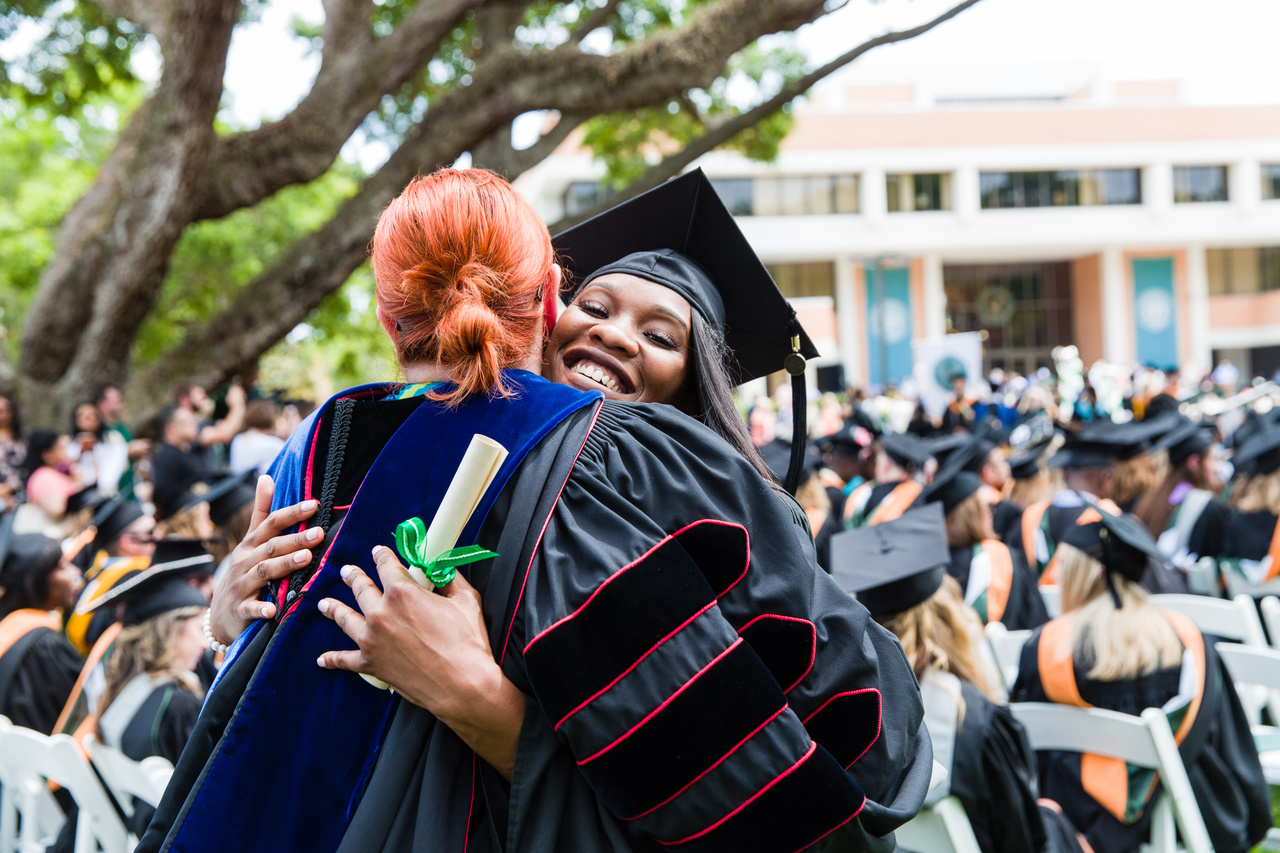 Additional Information
For a PDF version of this information, click here.