Travel with JU: Dolphin Travel Program
Upcoming​ Trips
Reconnect with Jacksonville University through like-minded alumni, parents, friends and guest faculty members who will accompany travelers on many of our trips.
Relax, learn, and enjoy as travel experts handle all the in-country details and local guides arrange behind-the-scenes tours.
For more information please contact us at alumni@ju.edu or 904.256.7201​.
Bring all of your questions to our next Dolphin Travel Program Info Night on campus September 28, 2017!
2017
Southern France: Treasures of Cathar Country: Adventures in the Languedoc
October 13-22, 2017
We invite JU alumni, parents and friends to join us in the fall of 2017 on a wonderful journey to a fascinating part of Europe that is too often ​neglected by modern tourists. Tucked between the Massif Central and the mountains of the Pyrenees this corner of southwest France has long been known for it's independence from the rest of the country. Many of the people who live here, however, consider them- selves neither French nor Spanish.
More information on Southern France: Adventures in the Languedoc >>>​
Cuba with Dr. Quinton White [Fully Booked]
November 5-12, 2017​
Over the course of centuries, Cuba has been shaped by a blend of indigenous, European, and African influences. On this 8-day program, you'll examine different aspects of the country's cultural heritage, from the 19th century sugar trade and its lasting impact, to the incorporation of various religious identities, to more recent history, like the 1959 revolution and Bay of Pigs invasion. Interact with Cuban people as you meet with modern day artists, take part in a community project with conservationists, and visit a school. Plus, explore natural areas like Zapata National Park — a UNESCO World Heritage Site and Ramsar wetland — and go snorkeling to experience Cuba's marine biodiversity.
More information on Cuba with Dr. Quinton White >>>​
2018
Cruising the Panama Canal and Costa Rica
February 9-17, 2018
Few Ocean experiences can match one of the world's most dramatic voyages, a cruise from the Pacific Ocean to the Atlantic through one of the greatest man-made wonders of the world, the ingenious Panama Canal. Having celebrated its centennial anniversary just two years ago and currently undergoing a monumental expansion doubling its capacity, this marvel of engineering and 50-mile passage through the narrow Isthmus of Panama continues to astonish even today's most veteran traveler.
More information on Cruising the Panama Canal and Costa Rica >>>​
Venice, Florence and Rome
March 7-15, 2018
We've picked three iconic cities at the pulse of Italy's vibrant culture, both past and present. Venice brings romance to the forefront, with sprawling Baroque palaces and meandering, gondola-dotted canals. The Renaissance is tangible in Florence, where the presence of the world's greatest artists can still be felt. And in Rome, history is ever-present, from the crumbling Colosseum to the Forum. The people, the food, the way of life—experience what Italy is all about as you make your way from one city to the next.
Tour pace: You will walk for about 2 hours daily across mostly flat terrain, including cobblestone streets, with few hills or stairs.
More information on Venice, Florence and Rome >>>​
Greece: From Sacred Sites to Seashores
May 11-19, 2018
We invite you to join us on this journey through classical Greece. We will visit the beautiful seaside town of Nafplion and the Delphi, the ancient sanctuary that grew rich as the seat of the oracle that was consulted on important decisions throughout the ancient classical world. We will journey to the ancient city of Corinth, perched on the isthmus of the Peloponnese, Corinth rivaled Athens and Thebes in wealth. We will end our trip in the majestic city of Athens with the Parthenon and all its glory. This is a spectacular program that takes you to all the highlights of Classical Greece!
More information on Greece: From Sacred Sites to Seashores >>>​

Ancient Peru & Machu Picchu
August 16-26, 2018
Lima is home to excellent museums that showcase the achievements of Peru's oldest cultures, but the country's main draw is the chance to uncover the very sites where the ancient Inca once thrived. Ascend into the Andes and explore the plazas of colonial Cuzco, the Inca sites in the Sacred Valley, and the legendary Lost City of the Incas at Machu Picchu.
Tour pace: You will walk for about 2 hours daily across moderately uneven terrain, including rocky ground and unpaved trails, at high altitudes.
More information on Ancient Peru & Machu Picchu >>>​
Trade Routes of Coastal Iberia
Barcelona, Mallorca, Valencia, Granada, Gibraltar, Andalusia, Seville, Lisbon
October 3-11, 2018
Cruise the ancient trade routes of Phoenician, Roman and Moorish mariners aboard the Five-Star small ship M.S. Le Lyrial launched in 2015 on this comprehensive itinerary to the coastal jewels of the Iberian Peninsula—not often visited by Americans—during the best time of year!
More information on Trade Routes of Coastal Iberia >>>​
Cuban Tropical Rhythms

October 26 - November 5, 2018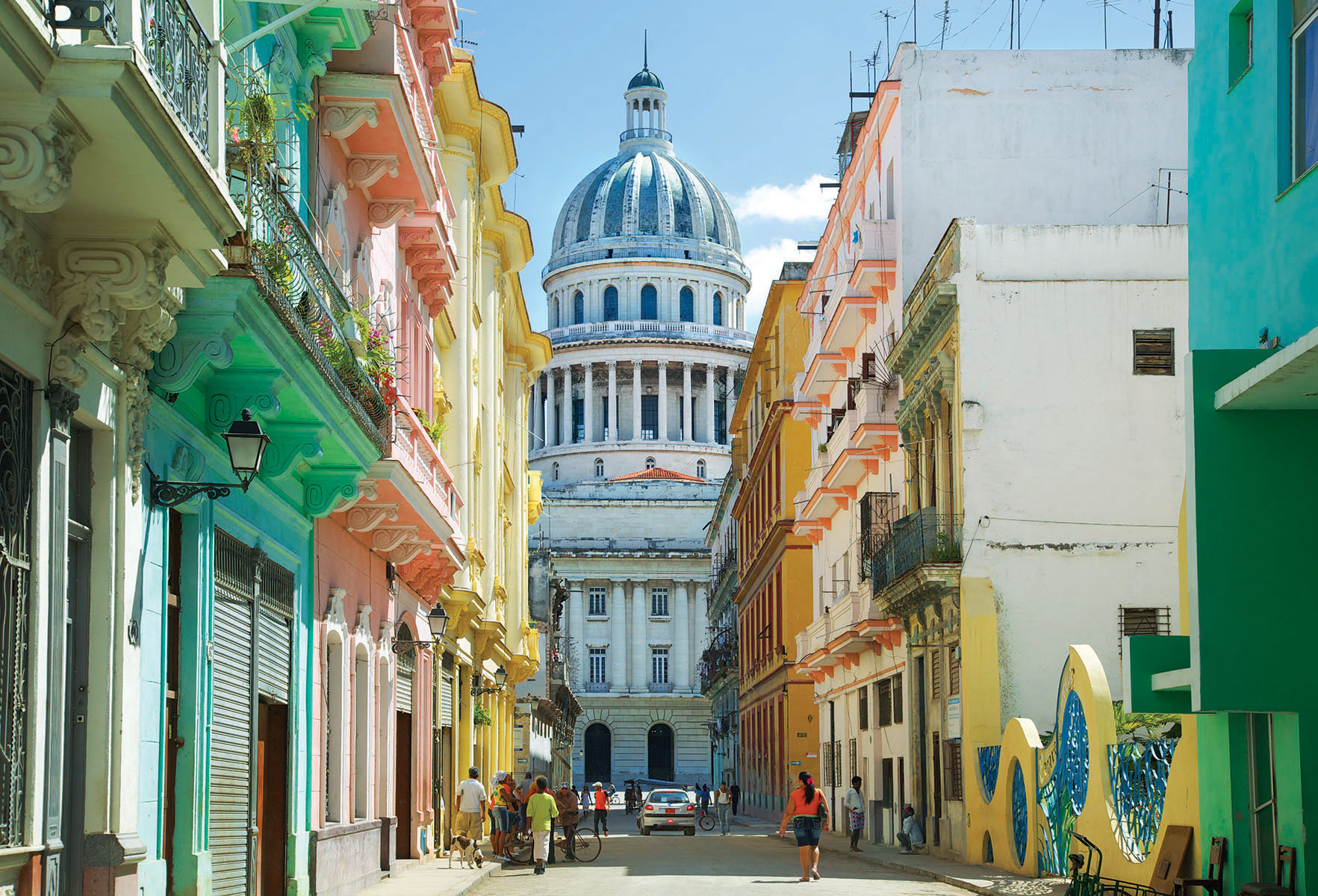 Open the door to Cuba's soul on this 11 day luxury cruise through the heart of this once-forbidden island nation. Embark aboard the Sriena in Miami, an international city built on the foundation of Cuban immigration; and make your way to the southeastern cultural hub of Santiago de Cuba. As the birthplace of Desi Arnaz and Bacardi Rum, home to the tide-turning Battle of San Juan Hill, and the site of the Cuban Revolution's victory proclamation, every aspect of Cuban history is deeply ingrained in the island's second largest city. Then onto the astounding bayside city of Cienfuegos, a former French settlement which remains a paragon of 19th-century urban planning. Our final stop is in Havana, Cuba's largest city and the epicenter of the nation's lively lifestyle. Add to this itinerary stops in Great Stirrup Cay on your way to Cuba and Cozumel on your return and your fabulous journey is complete!
To Pre-Register for this program, please print this form and return to the tour operator, Go Next at the address listed on the registration form.​
Paris: The City Experience
November 3-9, 2018
Whether for romance, history, or artistic inspiration, Paris is the destination for experiences you'll never forget. Unpack once, then explore soaring landmarks like the Eiffel Tower, stroll through charming Montmartre, browse some of the world's richest collections of art, or take a seat at a sidewalk cafe.
More information on Paris: The City Experience >>>​
Explore the Galapagos Islands
Date TBD
Curious and unafraid wildlife, unique geological features, specially adapted endemic flora, and a fascinating history of human habitation characterize the Galápagos Islands. Cruise comfortably aboard the M/C Tip Top II for an up-close experience of this renowned archipelago. As you hike, swim, snorkel, and explore by panga boat, you'll encounter amazing natural landscapes and learn about conservation efforts, history, and evolution. Plus, enjoy visits to Quito and Guayaquil on Ecuador's mainland.
More information on Explore the Galapagos Islands >>>​
Contact us for more information on any of the above trips at 904.256.7201 or alumni@ju.edu.
Past Trips
Review our past trips.
Helpful links